X5 Space Saver X-Ray Inspection
Designed to be integrated into line with optional free standing reject, it is available in 300mm and 500mm belt width models, and is perfect for products with a height of up to 180mm.

With a new integrated higher power X-ray generator, the system offers good detection levels on a wide range of hard and soft contaminants including all metals, bone, glass, dense plastics, within most packaging types, including foil trays or metallized film.

The latest version of the X5 Space Saver benefits from a lower total cost of ownership, resulting from simplified annual maintenance regimes.

The reliable heavy duty conveyor components, built for 24/7 operation with pass key protective Set-up comes integrated with a Windows 10 PC with Modem, Ethernet and front access USB port.

Versatile detection with LOMA's AAT technology
AAT technology allows the X-ray Diode setting to be changed depending on the product you are inspecting, offering the very best detection levels across the board. Using a 0.4mm setting for very small metal contaminants and 0.8mm and 1.6mm to find softer contaminants such as Bone, Ceramic and Glass.

Compact system optimizing valuable space
The X5 Space Spaver is built with LOMA's strong experience of food industry inspection systems and offers first-class CCP protection in the smallest footprint possible at a line length of just 1000mm.

Get inspecting fast with LOMA's product learn wizard
A set-up wizard automatically optimizes the X5 Space Saver for each product type and allows you to learn or allows you to learn or switch to new products within minutes.
Ideal for these products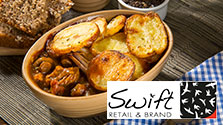 Case Study: Increase customer satisfaction by 30%
Read how Swift Fine Foods upgraded to X-ray inspection, reducing their customer complaints, improved metal detection from 4mm to 1.5mm and much more!
Read More
X-ray inspection FAQ's
Understand more about X-ray inspection, how it compares to metal detection and what it can do for your production.
LEARN MORE
Additional Features
Can be combined with the LOMA CW3 checkweigher for the ultimate Check and Detect solution
Check product integrity including counting and missing items
Manufactured with LOMA's "Designed to Survive" philosophy
Lead free construction
Specifications
Material of Construction: 304 Brushed stainless steel
System Length: 1000mm
Line Height Option: 700 - 1000mm (+/- 50 adjustment)
Product Height (recommended maximum) - 180mm (150mm if product is a solid mass)
X-Ray Output: 210W (60kV 3.5 mA)
IP Rating: IP66
Belt Width: 300/500mm
Belt Type: PU Anti-static
Weight on Belt: Up to 30kg
Speed Range: 20 - 80 m/min
Supply Voltages: 85 to 265 V, single phase 50/60Hz, neutral & Earth
Cooling: Vortex or AC Air Conditioning
Operating Environment (Standard): 2 to 10°C with cabinet warm up, 10 to 25°C with Vortex
Operating Environment (Optional): 25oC to 35°C AC Air conditioning (Cabinet reduced to NEMA 4x with AC Option)
X-Ray Safety: Leakage less than 1 μSv/h
Detection Algorithms: 15 Multilayers Algorithms combined in any combinations
Reporting: Event, Batch, Shift, PVS
Data Retrieval: Via USB, Ethernet, Tracs