Pharmaceutical & Nutraceutical
The Pharmaceutical and Nutraceutical sector covers a wide range of products which typically include; tablets, capsules, soft gels, lozenges, and many more. These products are inspected to eliminate any contaminants that may be present so that they do not make it to the consumer.
The typical contaminants inspected in the pharmaceutical and nutraceutical are; all metals (Ferrous, Non-Ferrous & Stainless steel). Additionally, some manufacturers have the need to inspect for product integrity within blister packs (broken or missing product). Through understanding the challenges faced by each sector and application, LOMA is able to design machinery to help ease any potential issues and help to contribute to maintain maximum uptime.
Challenges in this Sector
Some of the challenges faced by the pharmaceutical and nutraceutical segments include;
Foreign object contaminants in raw materials and ingredients
Machinery or components (sieves, tablet press tooling, wire ropes etc.) breakage
Broken or missing product when packaged in blister packs
Dust collection on machinery and electrical components causing cross-contamination
Why Use LOMA?
Dust tight and easy to clean surfaces that prevent cross-contamination
Machines for a wide range of applications including tablets, capsules, bottles, and powders
Systems that can be fully integrated into Tablet Press and De-dusters for seamless production
Easy to use machines designed for varying product
Good detection levels on both Metal Detection and X-Ray Inspection with the added capability of dealing well with product size variants
Prompt, Efficient & Reliable support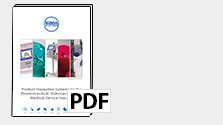 Download
To find out more about Loma's full range of Pharmaceutical Inspection options download our brochure.
Pharmaceutical Brochure
Ideal systems for this industry