INSPECTION UPGRADE DELIVERS 30% INCREASED CUSTOMER SATISFACTION
Firmly established in the market for premium foods, Swift Fine Foods in Ireland, produces quality ready meals, soups and convenience foods for retailers. They also have a successful part of their business supplying caterers mainly in the healthcare sector. In Ireland, Swift Fine Foods is the largest manufacturer of ready meals, with a state of the art food manufacturing facility in Lough Egish, Co Monaghan and they are continuously focused on growth.
Swift Fine Foods' Challenge
Whilst in the past the business has been satisfied with the detection of metal using conventional metal detectors, they considered commercially and safety-wise it would be beneficial to enhance inspection to scan for more than just metals. Therefore they decided to investigate upgrading their inspection equipment.
The increasing challenge for Swift Fine Foods is multiple sources of contamination that can be introduced during production.
For example, with vegetables arriving in bulk, whilst the produce goes through a strenuous cleaning process, there is still a need to check for contaminants like grit.
Plus, some recipes bring the risk of bone contamination that would have negative consequences to their retailers and healthcare customers.
The Brief
Having successfully run their food manufacturing lines with metal detectors for many years, Swift Fine Foods approached QPM, Loma's distributor in Ireland, to discuss how they could assist in improving their inspection techniques beyond metal detection at their manufacturing facility in Ireland.
The brief was also to find a solution that met their budget constraints.
Inspection detection needed weekly for up to 180,000 meals and 12 tonnes of food service & healthcare products.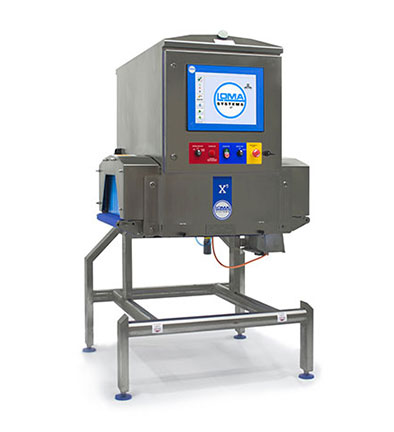 LOMA's Solution
X5 Spacesaver X-ray systems
Checks for contaminants, product weight and volume
Pusher reject
To see how the X5 Spacesaver can help your application or for general information
Call +44 (0) 1252 893300 or email on the link below.
Request Information
The Solution

In response to the brief, Loma's distributor QPM carried out a full audit of Swift Fine Foods to determine the right solution for their product lines. QPM recommended and demonstrated the X5 Spacesaver to detect various contaminants, check product weight and integrity, plus with fail-safe functions it ensured Swift Fine Foods were retailer code of practice compliant.
Following the initial successful installation of the X5 Spacesaver, the business then further introduced the X5C to all lines as it offered the smallest footprint. These X5C's were specified with pusher reject mechanism onto a gravity roller rack, with the necessary fail-safes in place.

Paddy Grimes, Director, Swift Fine Foods, has this to say about their investment:

"This project was a considerable investment that involved all our production lines. We explored various Check & Detection suppliers and selected Loma's X5 Spacesaver and then X5C X-ray. The support from Loma and QPM has been highly professional, with the Loma team ensuring the right inspection solution for our business.

Financially the Loma proposal stacked up and commercially we are in a very strong position as we can tell our customers all our lines are fully contaminant checked, which has resulted in new contracts. This is critical considering we work with leading retailers and healthcare providers where safety is a key concern."
The Benefits for Swift Fine Foods
Upgrading from metal detection to X-ray, they can now detect so much more.
Metal detection improved from 4mm to 1.5mm.
The X5 is the most valuable equipment on their production line as checks the product is free of a variety of contaminants including stone, glass, and dense plastics.
Strong commercial proposition having X-ray on all lines, helping secure new contracts for the business.
Swift Fine Foods have reduced customer complaints by 30%.
The user experience has been positive as the system is easy to operate.



"Customer complaints reduced by 30% with new contracts secured thanks to the X5 range"
"I would wholeheartedly recommend Loma, their distributor QPM and the Loma X5. The reasons for this are the machines are first-class, the support excellent, plus I'm delighted the X5 does everything we specified and a bit more."

Paddy Grimes, Director, Swift Fine Foods
If you need more information contact us on 01252 839 300 or request expert advice
If you need some advice, please feel free to call us or request an expert, click the button and fill out the form.
We have a UK based customer service team ready to help and keep your food safe.
Request an Expert