Rectangular Search Head
The IQ4 Rectangular Search Head Metal Detector is designed to be integrated within production lines or conveyor systems.

The IQ4 offers the latest 7" colour touchscreen with the engaging new user interface designed to make light work of setting, running and maintaining the IQ4 range, minimalizing user errors. Conveyor systems comply with strict international standards such as IFS, BRC and FSMA; and can also be supplied with the highest level of compliance to meet the strict Retail Codes of Practice.

The IQ4 range of Metal Detectors offer optimized mechanics to deliver performance improvements using variable-frequency detection (31 to 882 KHz).

7" Touchscreen with a new easy to use interface
Standard across all of the IQ4 range, the big 7" touchscreen offers 33% more space than previous generation metal detectors and improves usability.

Faster, Better Auto-Learn
With significant improvements in signal processing, the new Auto-Learn rapidly delivers excellent detection sensitivities out of the box and provides more line uptime than ever before. You can then select the product learnt from the User Interface or for lines with frequent product switches, the optional IQ4 Barcode Scanner enables quick and accurate switching by just scanning the new product's barcode.

Robust "Beyond" IP69K rating
An improved lip, screen, and new blue sealing arrangement, combined with ultra-harsh mechanics proven from the IQ3+ range, make this one of the toughest and factory friendly Metal Detectors on the market.
Ideal for these products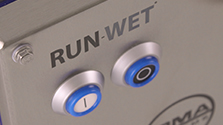 NEW: RUN-WET Conveyor Systems
Loma's new RUN-WET® Metal Detector Conveyor systems help improve water-proofing with complete IP69 protection. Find out more below.
RUN-WET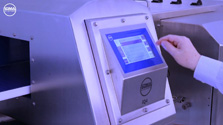 Finding your product hard to set up?
Highly reactive products can be difficult to set-up, but when using Loma's Auto Learn feature you can be ready to run within minutes, detecting great sensitivities.
WATCH NOW
Additional Features
Supplied with reject signal output
Made with 304 stainless steel
Specifications
Material of Construction: 304 Brushed stainless steel
True Variable Frequency: 31 to 882 KHz
Supply Voltages: 85 to 265 V, single phase 50/60 Hz, neutral & amp;Earth
Power Consumption: 20 VA
Air Supply: 5 to 8 Bar (10 mm outside diameter) 72-116 psi
Temperature Range: -10 to +40 °C (14 to 104 °F)
Humidity: 0 to 95% Relative Humidity (Non-condensing)
IP Rating: IP69K
PVS Enabled: Yes
Ethernet Capability: Yes
USB Capability: Yes