Bakery
Bakery encompasses many different flour-based products, which include fresh and frozen bread and rolls, semi-baked goods, croissants, cakes, pastries, doughnuts, pancakes, and dough. It also includes biscuits, cookies, crackers, tarts, and fruit pies.
Challenges in the Bakery Sector
Some challenges found within the bakery sector include:
Large amount of processing and production of the food product, which increase the chance of stainless steel contamination caused by processing and packaging machine failure
Warm and dusty environments and the need for regular cleaning of machines, conveyors and belts
Integrity of products after baking process (i.e. looking for holes within baked bread) or missing items (i.e. packets of cookies)
Increase in private label manufacture, requiring food manufacturers to be serving multiple retailers with multiple products
Why Use Loma?
Loma has a long-standing experience of working with many bakery manufacturers:
Loma has recognized solutions for metal detection, x-ray inspection, dynamic in-line Checkweighing, and can provide combined Check and Detect solutions, where detection and weighing occur on the same system
With Loma's Designed to Survive® philosophy, equipment is designed to withstand the tough conditions and cleaning found within many factories
In addition to being used for metal detection within bread, Loma's X-ray systems are being used to detect other foreign bodies and scan for product defects, such as large holes, and remove these products from the line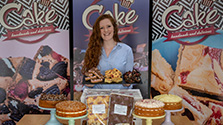 Case Study: Robust and timely support for handmade bakers
Read how Loma's Metal Detector's meet the demand of high level BRC grade A accreditation without fault for a smaller handmade bakers.
Read More
Ideal systems for this industry