Catch of the Decade
Enduring reliability, ease of operation and a sales and servicing presence 'north of the border' have established LOMA SYSTEMS® as Edinburgh Salmon Company's supplier of choice for inspection equipment.
At its facility in the Scottish Highlands, Edinburgh Salmon Company processes in excess of 100 metric tonnes of premium fresh salmon and trout every week and depends on LOMA®'s inspection equipment to ensure the quality is of the highest standard. Whilst most of the fish leaves the factory as skin-packed fresh portions, some is smoked, roasted and poached. So, although Edinburgh Salmon might sound like a one-product company, this couldn't be further from the truth. Peppered hot smoked salmon, smoked salmon pâté, golden roast salmon, poached Scottish salmon, boneless stuffed butterfly trout and marinated salmon portions are just a few of the many product lines supplied to high profile customers, such as Asda, Prêt à Manger, Greencore, Bradgate Bakery and Donald Russell.
The preparation of fish involves processes such as trimming, boning, gutting, skinning and filleting. To maintain best quality in the unlikely event of metallic contamination from knives and mechanical equipment, Edinburgh Salmon Company passes all of its products through Loma inspection equipment. It means that even the tiniest particles are detected and removed. "Our relationship with LOMA spans over a decade, quite simply because we cannot afford downtime as a result of unreliable or erratic inspection equipment, and because we strive to constantly exceed the expectations of our customers in terms of quality and safety. LOMA's machines have proved to be totally reliable and very user-friendly," says David Leverage, Labelling Manager at Edinburgh Salmon Company.
Edinburgh Salmon Company's most recent purchase was a LOMA IQ3 metal detector for its raw fish department. This is housed in an extension built in 2012 to facilitate an additional £20 million in sales. The IQ3, which combines rugged performance with true variable frequency operation, is deployed to check trays of 20 or so fish portions that are destined for retailer fish counters.
A LOMA x-ray machine is also stationed in the new raw fish department to metal check 'cook in the bag' fish packed in foil trays with sachets of sauce. This packaging would 'confuse' a conventional metal detector, rendering it unable to differentiate between the signals emitted by the foil packaging and metallic contaminants. "The performance of x-ray machines isn't compromised by metallic packaging because they work on a density basis; our x-rays can easily and accurately find small pieces of metal in a product packed in foil trays." explains Alex Learmonth, LOMA's Scottish Sales Manager.
Metallised board, or 'fish board' as it is known in the trade, could present challenges for the two metal detectors in the neighbouring packing area. Integrated with checkweighers in a combination configuration, the detectors verify that packs of smoked salmon of various sizes, from 100g up to 5kg, are free of metallic contamination and comply with weights and measures legislation. LOMA's metal detectors achieve good sensitivities on these products by overlooking the signal from the metallised board.
Screening retail-packed fresh fish in the dedicated packing zone are two further LOMA metal detectors. Operating at typical line speeds of 70 to 80 packs per minute, the sensitive LOMA machines are capable of locating minute ferrous, non-ferrous and stainless steel particles. Rejected product is automatically removed from the line.
With its remote location near Inverness, another factor that attracted Edinburgh Salmon Company to LOMA was its regional sales and servicing offering; LOMA has Scottish based sales and service personnel none of its direct competitors have service operations in Scotland. "It takes four and a half hours to drive to our factory from Glasgow, so if we had to wait for an engineer to come from England it could potentially result in considerable costly downtime," says David.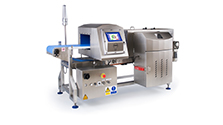 IQ4 Metal Detector Conveyor Systems
The IQ4 Conveyorized Metal Detector system is designed for packaged and loose products and can be supplied with full retail compliance.
View the Metal Detection Range