Weighing products with Loma's X5 X-weigh feature
15 Jul 2020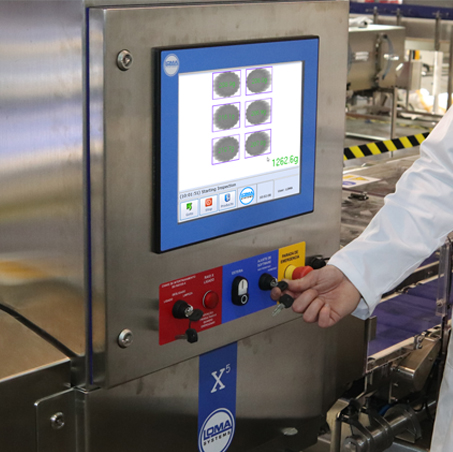 The X-Weigh feature on an X5 Series X-ray allows the weight of a product to be calculated based on the image of the product being scanned.
This feature is useful to determine a weight or quality discrepancy before the product reaches the Checkweigher.
How can I use X-weigh?
On an X5 X-ray system, working through the user interface screen, it is fast to set-up, with X-weigh using algorithms to convert data from an image into an estimated weight. The cleverness of X-weigh is intended to compliment end of line Checkweighing by identifying weight defects within the production process, and therefore helping to eliminate poor quality product or reducing product waste from final packaged product. Additionally, it is worth noting X-ray and X-weigh is typically unaffected by vibrations, belt speed and other factors that are known to degrade traditional checkweigher performance.

Improved product quality and brand reputation
X-weigh is great for certain applications which use multiple compartments, such as yogurts or ready meals as it can identify missing and overfilled product. For example, if you are weighing a product using just a checkweigher, it will only check the total weight, whereas X-weigh will check each compartment separately providing both an individual and overall weight. This will let you know if there is too much of one component, which could be caused by an issue with a portioning machine, resulting in an inferior product.
Example of X-weighing a multi compartment pack
Loma software has the capability to identify discrete objects in the X-ray image and measure the individual weights for each object, for example as per the below it is inspecting the 6 objects individually and calculating their separate weights. This feature works independently from the overall x-weight and can be used to identify under-filled products in a tray of multiple samples which would normally pass as an overall weight when getting measured on a checkweigher.
As you can see, where a Checkweigher will just provide you the overall weight of 1262.6g, the X-weigh feature lets you know the individual weights of each object.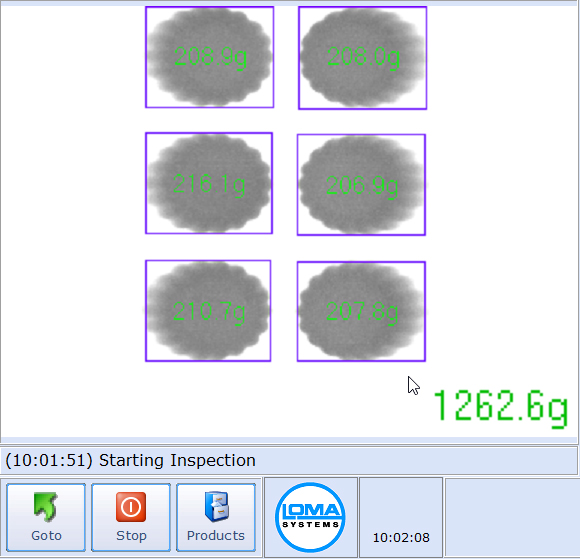 Technical limitations
For best weighing results, the inspected product needs to be uniform/homogenous and consistent from pack to pack. As an example, pouches of microwave popcorn would be considered a less homogenous product, with the small amount of shift and gathering of the kernels potentially making it very difficult to use this feature. With X-weigh, it should also be noted it is unlikely to conform to local weighing regulations.
How to use X-weigh with difficult products?
To achieve optimum results with an inhomogeneous product, you need to use several samples of the product to set the weight range and they must be close in weight to be accurate. The more packs used, the better the X-weigh results, plus the orientation of the packs on the conveyor could also affect the weight results.
The complete Check & Detect solution
For the ultimate Check & Detect solution, the X5-Series further provides product integrity checks through its object algorithms whereby you can identify missing or overfilled product. When operating the X-weigh function on the X5-Series, for better accuracy and product setup in determining weights, Loma recommends pairing the X5 X-ray system with a CW3 Checkweigher to create a Combination system.
Return to news
Share This Post:
If you need more information contact us on 01252 839 300 or request expert advice
If you need some advice, please feel free to call us or request an expert, click the button and fill out the form.
We have a UK based customer service team ready to help and keep your food safe.
Request an Expert
X-ray inspection FAQ's
Understand more about X-ray inspection, how it compares to metal detection and what it can do for your production.
LEARN MORE