Protecting the Thanet (Earth)
UK's largest greenhouse complex, Thanet Earth, is protected by LOMA SYSTEMS® harsh washdown CW checkweighers and IQ3 metal detectors.
Thanet Earth, the UK's largest, most high-tech greenhouse complex has chosen LOMA SYSTEMS, a world leader in the design and manufacture of food inspection systems, as their partnered supplier for their next generation CW3 checkweighers and IQ3 metal detection systems.
The CW3 checkweigher is designed specifically for the food production industry. It offered the ideal solution for Thanet Earth to optimize production efficiency. The system was easily integrated into their high-speed lines and with belt speeds up to 120m/min was easily coping with the high throughput of the cucumber, tomatoes and pepper production lines. The CW3 is designed for a tough industrial environment and meets IP69K 'harsh environment' wash down specifications. One of the critical requirements was the ability to install a checkweighing system that allows strict cleanliness to meet
Thanet Earth's demanding hygiene standards.
LOMA's proven combination metal detector and checkweigher was installed specifically for cucumber processing. With the cucumbers being sliced before packing it was imperative to ensure no potentially hazardous metal contaminants could be left in the product.

The speed and accuracy of the CW3 checkweighing and the Combination metal detection and checkweigher, coupled with the easy to use touch screen interface and advanced technical features
including diagnostic and statistical reporting met the requirements of Thanet Earth perfectly.
LOMA quickly identified Thanet Earth's particular requirements and recommended their CW3 checkweigher plus a combination CW3 checkweigher / IQ3 metal detector. With many production lines
running at high speeds, a system to accurately weigh each product whilst matching the throughput was a high priority – a challenge that LOMA lived up to.
Thanet Earth, part of the Fresca Group, covers a vast 92 hectares (220 acres) of prime farmland in Kent and offers unique agricultural methods for growing fresh produce. Fed by personal reservoirs, the crops themselves are suspended from 8m ceilings in huge hydroponic rows. No soil is used for growing; they are planted in Rockwool and fed with nutrients through the irrigation system.
The aim of this unique model greenhouse is to bring high intensity horticulture to the UK. It is estimated that it will facilitate and increase UK salad crop (cucumbers, peppers and tomatoes) production by 15%, which will in turn aid consumer demand for British salad vegetables all year round.
In order to meet high demand and tight supply schedules, Thanet Earth required a fast, efficient and reliable checkweigher and metal detection solution. LOMA's CW3 checkweighers and combination CW3 checkweigher / IQ3 metal detection system is proven to satisfy the highest level of quality assurance.
A significant percentage of Thanet Earth's business is dedicated to serving major supermarkets. With LOMA supplying their high speed, space saving CW3 checkweigher and metal detector combination system, they were able to satisfy Thanet Earth's demanding production schedules. The CW3 machine has the benefit of being easy to set up and adapts to a wide range of different products, which is essential for Thanet Earth and their variety of fresh produce. This will in turn reduce downtime and allow Thanet Earth to operate at the highest speed to meet their customers' requirements.
Key drivers such as supermarkets' codes of practice and other important food manufacturing regulations are a having major impact on suppliers who are able to access increasingly better technology that offers excellent investment value.
By incorporating the compact CW3 / IQ3 combination system seamlessly into the existing cucumber production line, LOMA proved they were able to provide the ideal answer to the problem of small metallic particles potentially contaminating the final product. LOMA's combination system is a leader in the field for sensitivity and reliability.
The CW3 checkweigher and IQ3 metal detector combination machine includes a performance validation system (PVS), automatically prompting the operator to test performance at pre-set intervals
according to HACCP (Hazard Analysis Critical Control Point) standards, and producing detailed records of any contaminants found.
In addition to this, the IQ3 uses an industry standard OPC (Object Linking and Embedding for Process Control) system, allowing operation managers to easily integrate the equipment into existing factory data capture networks. These reports are often requested by the major supermarkets to ensure and guarantee quality levels. Thanet Earth is able to provide detailed diagnostic reports due to the CW3's advanced service offering. LOMA recognizes a data capture system is integral to ensuring an accurate quality control regime that can be accessed simply and quickly.
Chris Whitehead-Collet, Operations Director at Thanet Earth comments, "LOMA had the competitive edge when it came to technical specification and expertise during the supplier evaluation process. They were able to offer an unbeatable price and a complimentary support service." He continues, "By partnering with LOMA SYSTEMS we now have the piece of mind that the equipment is able to withstand our production levels."
Simon Spencer, Managing Director of LOMA SYSTEMS comments, "We at LOMA were particularly proud and excited to be part of such an advanced project. The fact that our machines were chosen by Thanet Earth after such a rigorous selection process demonstrates our commitment to providing the best food safety inspection equipment on the market. We understand the pressure upon food manufacturers to adhere to strict regulations, deadlines and quality and are pleased to provide solutions to enable this."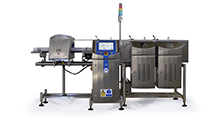 IQ4 & CW3 Metal Detection Combination System
The metal detector combination system is designed for simultaneously detecting metal contaminants and reducing giveaway in food products. This system is perfect for inspecting a wide variety of food products, including retail-packed convenience food/ Food to Go and much more.
View the IQ4 & CW3 Combination System