Loma showcase Next Generation inspection systems at Pack Expo Las Vegas 2015
20 Aug 2015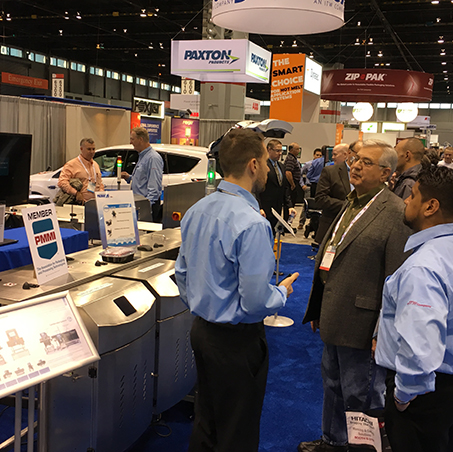 Loma Systems announce their attendance at the Pack Expo in Las Vegas, Nevada. The expo is being held between 28th and 30th September 2015 at the Las Vegas Convention Center, 3150 Paradise Road, Las Vegas, NV 89109, USA. Loma Systems and Lock Inspection can be found at booth #C-3203.
Loma and Lock will showcase their range of inspection systems including the new X5c [compact] and X5 Spacesaver X-ray inspection systems, the new CW3 Compact and Standard combination systems, IQ3plus metal detector conveyor, IQ3plus Pipeline metal detector for liquids, semi-liquids plus the Insight C5 Waferthin gravity fall metal detector for loose products and for pharmaceutical industry the Insight PH metal detector by Lock Inspection.
Loma's revolutionary X5c x-ray system reduces significantly cost of ownership and represents major investment by Loma in developing a fully specified system that offers high quality contaminant and product integrity inspection using a number of well-proven tools in a and streamlined, very compact design. This model is ideal for the detection of glass, calcified bone, rubber, stone as well as ferrous, non-ferrous and stainless steel metal in various packaging. Loma's X5c operates at line speeds up to 60 metres per minute and measures just one metre in length. It is capable of handling products up to 100mm (height) x and 300mm (width) but weighing no more than 3kg – making it ideal for the inspection of ready meal lines in particular.
On the Pack Expo show Loma will unveil a range of super space saving CW3 Compact Combination Checkweighing and Metal Detection units. With up to 30% smaller footprint than similar systems and a modular, hygienic design, these exciting new additions to the company's well-proven and popular CW3 portfolio ensure high levels of quality assurance by providing superior and reliable product inspection for food processors, manufacturers and packers with limited production space.
The Pack Expo East show is expected to draw more than 4,000 attendees to see advanced technologies from over 300 top-tier exhibitors who supply solutions for a wide variety of vertical markets, including Food, Beverage, Pharmaceutical and more…
Return to news
Share This Post: