Product inspection equipment and software
LOMA SYSTEMS
®
is a world leader in the design and manufacture of
Metal Detection
,
X-ray Inspection
,
Checkweigher
and
Combination
inspection systems for the food, pharmaceutical and packaging industries. LOMA equipment is engineered with the
Designed to Survive®
ethos, making them one of the most reliable and robust machines on the market. LOMA's inspection systems identify product defects and eliminate contaminants delivering consistent quality and are compliant with international safety standards and Retailers' Codes of Practice. LOMA can serve your inspection needs and with more than 45 years' experience our name is synonymous with safe, reliable and tough equipment delivering maximum uptime, with a low cost of ownership.
LOMA has successfully partnered with many of the world's largest food and packaging companies located in over 100 countries, to help them comply with product safety standards and retailer codes of conduct. LOMA was the first company in the industry to receive an ISO9001 certification. We have earned a reputation for unparalleled technology - the result of a continuous and far-reaching research and development program.
LOMA's goal remains the same - to help you maximize production uptime, maintain self-sufficiency and comply with consumer and government demands for food safety and quality.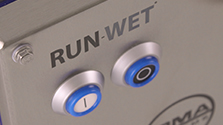 NEW: RUN-WET Conveyor Systems
Loma's new RUN-WET® Metal Detector Conveyor systems help improve water-proofing with complete IP69 protection. Find out more below.
RUN-WET
Maximize uptime with LOMA services
Loma prides itself on delivering first class services to support metal detector, x-ray, and checkweigher products in factories around the world. Our services include programs for verification and preventative maintenance, test pieces, spare parts and kits, training, rental, or emergency response in breakdown situations.
SEE SERVICES