The hidden financial benefits of check and detect systems
16 Dec 2021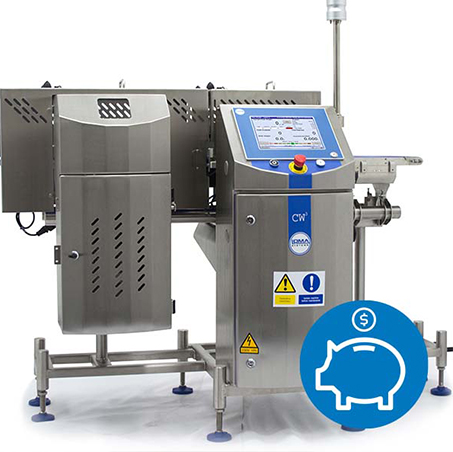 Inspection systems are key to customer safety and to protect the brand but the financial boosting potential is often overlooked. Our three examples explain how.
Inspection solutions investment is typically driven by safety and compliance needs, to ensure that consumers enjoy a consistently contaminant free product therefore protecting the brand reputation in the market. Although consumer safety is still high on the agenda, modern inspection technologies can deliver true financial rewards to food manufacturers. We present some scenarios that highlight those commercial benefits and three real life examples to help you put the financial gains in perspective.


Commercial benefits of inspection
Weight Compliance. Inspection can check product weight, importantly stopping underfill to comply with legislation, delivering customer satisfaction and trust, and ultimately maintaining a product listing. Conversely, giving away too much product might be welcomed by the end customer but can lead to huge financial losses for the manufacturer as well as food wastage.
Retailer Code of Practice. Major food retailers have stringent food safety standards that their suppliers must adhere to. The standards normally stipulate the type of foreign object detection system to use, how rejects should be removed from the line, "fail" criteria, how the equipment's performance should be audited, and necessary records to keep. So, to even be in with a chance of securing your next contract, you need to have in place the right inspection equipment to meet COP, and this investment will pay off when the retailer selects you.
Food Safety Audit. Inspection systems help with audits as they crucially provide transparency and assurance that food safety standards and certifications are being maintained. Without meeting the audit requirements that are helped by having the right inspection equipment in place as a CCP (Critical Control Point), certification can be revoked whereby retailers and customers will cease trading with you, with sales lost.
Damage Mitigation. When inspecting you are ensuring the consumer always receives contaminant free products, preventing a product recall that would damage consumers trust and long-term financially harm the brand and impact sales. The speed at which news travels on social media, has made a product recall a brand's worse nightmare, so reliable inspection to prevent such situations is even more valuable these days.
What inspection system gives the greatest financial gain?
All inspection solutions deliver financial benefits if paired with the correct application. Here we present three real life examples to help you put things in perspective.
Checkweighing Inspection. Loma's CW3 Checkweighing Series achieve accurate readings, so that you can fully comply to weight legislation and minimize unnecessary product give away. Using weight inspection to reduce product give away achieves impressive savings. For example, if you save just 0.13 cents per pack of tea, this can equate to $35,100 per year.
Savings yielded by a 1 gram waste reduction on a 450g pack of tea:
0.13 cents savings Per Pack
19.5 cents savings Per Minute (based on 150ppm)
$11.70 Savings Per Hour
$140.40 Savings Per Day (based on 12-hour shift)
$35,100 Savings Per Year (based on 250 production days)
X-ray Inspection. Loma's X5 X-ray Series looks beyond identifying contaminants, to also check for product integrity. These checks save on valuable human resource time, inspecting efficiently and freeing up operators for other tasks. As X-ray product integrity checks are more accurate and can see where the human eye can't, automated inspection can help your products reach customers in the way you intended for a flawless consumer experience.
Metal Detection and Combination Inspection. Loma's RUN-WET® inspection systems are specifically designed for wet and harsh washdown environments where cleaning regimes are frequent and thorough. Besides offering a hygienic construction that is easier to clean and faster to dry, these machines can run when still wet and therefore maximize production uptime.
UPTIME GAINS:
Cleaning times drastically reduced
No drying time needed
Extended production uptime
Overall production efficiency gains
COST PAYBACK:
Less staff idle time as production resumes quicker
Improved factory productivity
Savings per hour and per shift
Substantial cost savings per year
Whilst typically the motive for inspection is consumer safety, meeting legislation and retailer codes of practice, there are tangible financial gains deriving from using the latest check and detect technologies. Over a period of time these gains go a long way by adding to the bottom line and helping your business stay successful.
How can I find out more?
If you would like to further discuss the financial benefits of our inspection systems, then our trusted LOMA Advisors can assist. Contact Us to find out more.
Return to news