The Barcode Scanner for the IQ4
29 Sep 2020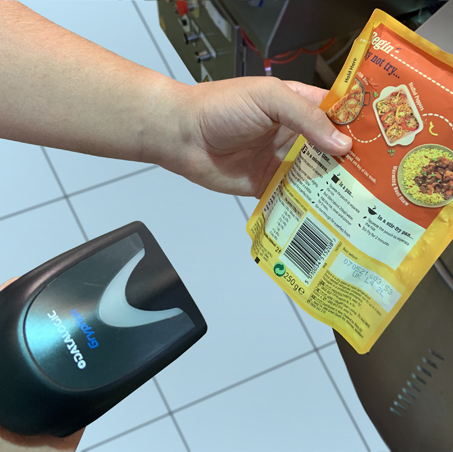 When a line inspecting packaged product frequently switches product, the optional Barcode Scanner for the IQ4 Metal Detector Series is the perfect accessory for quickly and accurately identifying the product.
Simply scan the packaged product's barcode and if the product has previously been set-up, the IQ4 Metal Detector recalls all the product's characteristics and can immediately start detecting for metal contaminants. 

The Barcode Scanner also removes the need to scroll through a list via the User Interface screen and by physically scanning the product's barcode there is no doubt the correct product has been selected, plus product switches are quicker. The Barcode Scanner is recommended for lines that have multiple product switches per day or have many products stored in the system's settings.
Compatibility
The Barcode Scanner is a GRYPHON D4132-BK handheld scanner and is available on the IQ4 Rectangular Search Head and both the IQ4 standard and RUN-WET® specification Conveyorized Metal Detector System. The Barcode Scanner is IP52 rated and corded.

Installation
New systems will already have the scanner installed (cable and connector routed into the head). Systems in field will require a Service Engineer / accredited Loma Engineer to complete the installation. If a cradle / holster is required to hold the scanner when not in use, it should not be mounted to the IQ4 search head (MFZ – metal free zone - should be respected).

Easy Learning
Learn the product by simply scanning and once the product has been learnt and linked to the associated barcode, the product barcode can then be scanned and the Metal Detector instantly knows the product's characteristics to reference against.  For products already learnt, it is simple to assign a barcode to a product that is already saved in the IQ4's Products Menu.

Accuracy & Speed
When a line has a high volume of product switches, the Barcode Scanner is ideal, facilitating accurate and quick switching with no risk of selecting the wrong product from the User Interface's product selection screen.  Simply scan the packaging's barcode with the scanner and the system recalls the correct product.
Return to news
Share This Post:
If you need more information contact us on 01252 839 300 or request expert advice
If you need some advice, please feel free to call us or request an expert, click the button and fill out the form.
We have a UK based customer service team ready to help and keep your food safe.
Request an Expert