Where do I install inspection systems on a production line
4 Sep 2019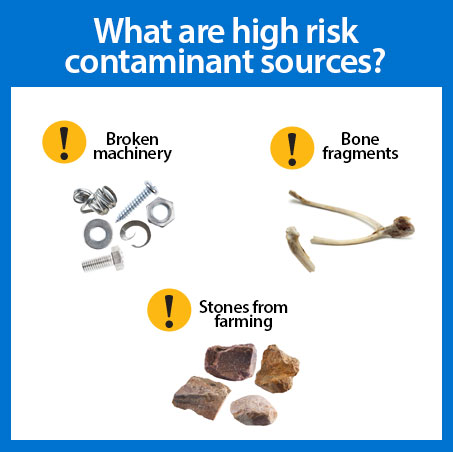 On a production line, the risk of contamination can occur at any stage. This makes it challenging to pin-point the best place to install an inspection system in order to capture contaminants for optimum safety and quality.
Contamination can occur due to many reasons, which include failed processing machinery, whereby parts could break and infuse the food; from the ingredients that come into the factory; and from packaging materials that accidentally contaminate the food. Therefore, it is essential to understand where and what your high risk contaminant sources are.
So, a common question asked is, "Where is the best place to detect for contaminants on our production line?" Loma Systems always works with customers to review their production process to establish at what stage of production the risk of contamination is most likely to occur. Once a high-risk stage is identified, installing an inspection system as a critical control point to detect contaminants is recommended.
Drilling Down into the Production Stages
It is often beneficial to eliminate a problem closer to the beginning of the production line before adding further processing costs and time. This also helps reduce product waste in the event of a contaminated product being found.
At the Early-in-Line production stages, foods can be inspected by a Loma inspection machine when:
Raw materials are introduced, especially if the raw materials have come from a different facility.
Product is being cut, trimmed, minced or ground. Broken metal shards from the processing machinery have the possibility to be introduced and ultimately could damage equipment further down the line.
Checking for contaminants before packaging.
In-process weighing is used to verify weight and reduce giveaway prior to final packaging.

When handling bulk or loose product, Loma's range of machines can check products in different formats, from frozen meat blocks to trays full of loose potatoes. Also, during in-line processing there might be pumped products like sauces or ground meat / poultry products that need checking at an early stage. This can be easily achieved with a Loma pipeline system.

At the End-of-Line with packaged products, contaminant checking is often mandated prior to packaging and shipping. Plus, to ensure the correct amount of product is included in each pack, product integrity can be checked by an X-ray which can verify the product for defects or missing items. Plus, a final contaminant and foreign body inspection is useful in ensuring the product meets the necessary quality standards. With a Loma Systems inspection solution, checking packaged and ready-to-ship product, even with metalized packaging, can also be achieved.

In some circumstances, where the risk of contamination might occur at multiple stages, consideration should be given to inspection solutions at both the earlier processing stages and post packaged stages.
See where and how many times these customers checked for contaminants.
READY MEAL IN METAL TRAY. 1 check. The customer used a Loma X5C Compact to check the product was free of contaminants and sauce sachet added. The check was before the metalized tray had sealing film and cardboard slip added.
SNACK BARS. 1 check. Once packaged, the snack bars are checked by a Loma X5 X-ray for contaminants and to ensure no breakage or incomplete packs.

Speak to Loma for expert advice on detecting contaminants when manufacturing food. We can help you best determine where to position a Check & Detect solution on your production line.
Return to news
Discuss your Requirements
Speak to one of the team via Livechat and get an instant response.
Start Livechat