LOMA expands online ordering facility for Test Pieces to the US
1 Feb 2018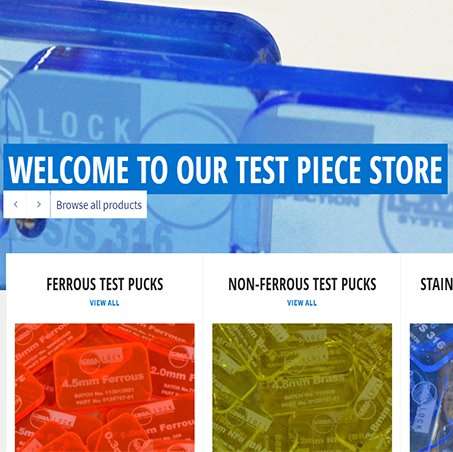 After a successful launch in the UK, Loma Systems – a leading manufacturer of X-ray inspection equipment, advanced metal detectors, and checkweighers for the global food and pharmaceutical industry – has launched a user-friendly online ordering facility for test pieces to its United States customers.
Placing a test piece order via the new, easy to navigate US platform (us.store.loma.com) is simple. Customers just click on the item they need – via smartphone, tablet or PC – and indicate quantity before proceeding to check out and payment.
Loma's store accepts all major credit cards and was devised to eliminate the burden of customers having to complete internal paperwork, obtain purchase order numbers and process bank payments, which results in a much quicker and easier process.
Test pieces, which are precision ground balls encased in plastic, are widely used as part of the performance validation system. Using a fully-calibrated Loma test piece demonstrates commitment to due diligence.
Loma offers a range of test pucks made from ferrous, non-ferrous and stainless steel for performance validation testing of its high-performance inspection systems. The most commonly used test pieces are held in stock and are available for quick delivery. Loma also offers free shipping on orders over the value of $100.
Toby Kemp, Loma's Global Marketing Manager comments, "The trend towards online shopping is something businesses cannot afford to ignore, including manufacturers of equipment for the packaging and processing industries."
"We have listened to our customers and after seeing success with our UK store, acted quickly to provide our US customers the same convenience. They no longer need to wait for a quote and can instead order test pieces online in just a few clicks. The new site can deal with the full ordering process, from the initial selection of the test pieces through to secure payment and delivery details."
Using test pieces as part of performance validation testing of inspection machinery is an essential part of quality management and ensures food manufacturing, processing and packing lines are compliant with all codes and regulations. Loma's new online store eases the entire ordering process so that customers can have test pieces on hand, when they need them most.
-Ends-
Return to news